Tuckahoe, NY – If you're looking for braces, but want a more discrete look than standard metal braces, Dr. Sam Polan and Tuckahoe Family Orthodontics have your answer.
"We know that many patients, especially our adult patients, want a more aesthetically pleasing way to straighten their smiles," says Dr. Polan, who treats patients throughout the Tuckahoe/ Bronxville/ Eastchester, and Westchester County area. "We are proud to offer the best in clear, ceramic braces for these patients."
So, what exactly are clear ceramic braces?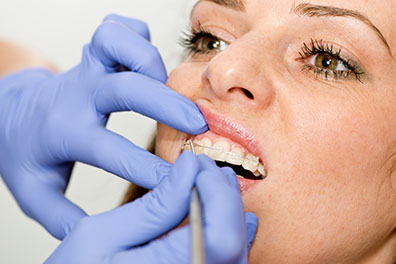 Clear ceramic braces marry the efficiency and effectiveness of metal braces with discreteness. However, the brackets that are used will be clear or tooth colored, allowing them to better blend in with your natural smile. These brackets will be bonded to your teeth, just like with standard braces, and then archwires will be placed in them to help guide the teeth to their ideal locations.
Not every patient will be an ideal candidate for the invisible aligner therapy known as Invisalign. But for people with more complicated malocclusions who still want to get their perfect smiles, clear ceramic braces often provide the answer. However, for the most serious malocclusions, standard metal braces are often still the best solution as they are the strongest and most efficient way to move teeth.
Clear braces will often be slightly more expensive than metal braces, but usually not by a lot. The length of treatment time will be roughly the same, as long as you care properly for your teeth and braces throughout treatment.
Some people may worry that clear ceramic braces will stain easily. Staining can occur but usually is not much of an issue, especially if you take extra care with them. The pieces most prone to staining will be the clear elastic ligatures used to hold the wire in place in the bracket. Keeping your braces free from stains will simply require extra attention to your oral hygiene while in braces. Brush after eating, floss and rinse regularly. If you can't brush or floss after eating, drink a glass of water to help remove any debris left over from your meal. To keep your brackets clear or tooth colored, you should also avoid food or drinks that have staining power, such as coffee, dark sodas and red wine, and avoid bad habits such as smoking.
While metal braces and clear aligners have both improved over time, neither one fits everybody's needs. Clear braces have also improved a lot, and for many people they may be the perfect middle ground, as they can efficiently move teeth, and allow you to still smile with confidence during your treatment.
If you are interested in learning more about clear ceramic braces, contact Tuckahoe Family Orthodontics today at 914-654-1859.